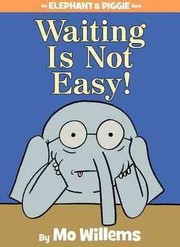 E Wil
Waiting is not easy!
New York : Hyperion Books for Children, an imprint of Disney Book Group, [2014]
1 volume (unpaged) : color illustrations ; 24 cm.
Piggie tells Gerald she has a surprise for him, but it is not there yet, so Gerald must be patient.
Accelerated Reader: Level 0.9 LG / 0.5 Points / 170768.
Lexile: BR
Available
Easy Fiction
4 copies available at Van Alstyne Elementary School
| | |
| --- | --- |
| ISBN: | |
| ISBN: | |
| LC Call No: | PZ7.W65535 Wai 2014 |
| Dewey Class No: | [E] 23 |
| Author: | |
| Title: | |
| Edition: | First edition. |
| Physical: | 1 volume (unpaged) : color illustrations ; 24 cm. |
| ContentType: | |
| ContentType: | |
| MediaType: | |
| CarrierType: | |
| Summary: | Piggie tells Gerald she has a surprise for him, but it is not there yet, so Gerald must be patient. |
| Target Audience: | |
| Study Program: | |
| Subject: | |
| Subject: | |
| Subject: | |
| SAE:PersonlName: | |
| Link: | |
| Field | Ind | Subfield | Data |
| --- | --- | --- | --- |
| 001 Control No | | | 23743 |
| 005 LastTransaction | | | 20180510044851.0 |
| 008 Data Elements | | | 140321s2014 nyua b 000 1 eng |
| 010 LCCN | | $a Record content licensor | 2014007802 |
| 020 ISBN | | $a ISBN | 978-1-42319957-1 |
| 020 ISBN | | $a ISBN | 978-1-42319957-1 |
| 035 System Ctrl No | | $a System control number | (SKY)sky260102002 |
| 040 Cataloging Src | | $a Original cataloging agency | DLC |
| | | $b Language of cataloging | eng |
| | | $e Description conventions | rda |
| | | $c Transcribing agency | DLC |
| | | $d Modifying agency | NjBwBT |
| | | $d Modifying agency | SKYRV |
| 042 Authentication | | $a Authentication code | pcc |
| | | $a Authentication code | lcac |
| 049 | | $a | JRSA |
| 050 LC Call No | 00 | $a Classification number | PZ7.W65535 |
| | | $b Item number | Wai 2014 |
| 082 Dewey Class No | 00 | $a Classification number | [E] |
| | | $2 Edition number | 23 |
| 100 ME:PersonalName | 1 | $a Personal name | Willems, Mo, |
| | | $e Relator term | author, |
| | | $e Relator term | illustrator. |
| 245 Title | 10 | $a Title | Waiting is not easy! / |
| | | $c Statement of responsibility | by Mo Willems. |
| 250 Edition | | $a Edition statement | First edition. |
| 264 ProductnNotice | 1 | $a Place of prod/dist/manuf. | New York : |
| | | $b Name of prod./pub./dist./man. | Hyperion Books for Children, an imprint of Disney Book Group, |
| | | $c Date of prod/dist/manuf/copyrt | [2014] |
| 300 Physical Desc | | $a Extent | 1 volume (unpaged) : |
| | | $b Other physical details | color illustrations ; |
| | | $c Dimensions | 24 cm. |
| 336 ContentType | | $a Content type term | text |
| | | $2 Source | rdacontent. |
| 336 ContentType | | $a Content type term | still image |
| | | $2 Source | rdacontent. |
| 337 MediaType | | $a Media type term | unmediated |
| | | $2 Source | rdamedia. |
| 338 CarrierType | | $a Carrier type term | volume |
| | | $2 Source | rdacarrier. |
| 520 Summary | | $a Summary, etc. note | Piggie tells Gerald she has a surprise for him, but it is not there yet, so Gerald must be patient. |
| 521 Target Audience | 8 | $a Target audience note | BR |
| | | $b Source | Lexile. |
| 526 Study Program | 0 | $a Program name | Accelerated Reader AR |
| | | $b Interest level | LG |
| | | $c Reading level | 0.9 |
| | | $d Title point value | 0.5 |
| | | $z Public note | 170768. |
| 650 Subj:Topic | 0 | $a Topical term | Elephants |
| | | $v Form subdivision | Juvenile fiction. |
| 650 Subj:Topic | 0 | $a Topical term | Swine |
| | | $v Form subdivision | Juvenile fiction. |
| 650 Subj:Topic | 0 | $a Topical term | Patience |
| | | $v Form subdivision | Juvenile fiction. |
| 655 IT:Genre | 0 | $a Genre/form data or focus term | Humorous stories. |
| 800 SAE:PersonlName | 1 | $a Personal name | Willems, Mo. |
| | | $t Title of a work | Elephant & Piggie book. |
| 852 Holdings | | $a Location | VAES |
| | | $h Classification part | E Wil |
| | | $p Barcode | 10753 |
| | | $9 Cost | $8.99 |
| 852 Holdings | | $a Location | VAES |
| | | $h Classification part | E Wil |
| | | $p Barcode | 10754 |
| | | $9 Cost | $8.99 |
| 852 Holdings | | $a Location | VAES |
| | | $h Classification part | E Wil |
| | | $p Barcode | 10755 |
| | | $9 Cost | $8.99 |
| 852 Holdings | | $a Location | VAES |
| | | $h Classification part | E Wil |
| | | $p Barcode | 21645 |
| | | $9 Cost | $8.99 |
| 856 ElectronicLocat | 4 | $3 Materials specified | Cover image |
| | | $u Uniform Resource Identifier | https://covers.openlibrary.org/b/id/7389898-M.jpg |