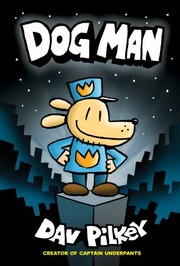 E Pil
Dog Man
New York, NY : Graphix, [2016]
231 pages : chiefly color illustrations ; 22 cm.
In this humorous graphic novel, Officer Knight and Greg the dog are in an explosion and can only be saved by attaching Greg's dog head onto Knight's human body, thus making Dog Man, a superhero who fights crime and the plots of Petey the cat. Includes drawing activities.
Accelerated Reader: Level 2.6 LG / 1.0 Points / 184237.
Lexile: GN 390L
Available
Easy Fiction
3 copies available at Van Alstyne Elementary School
| | |
| --- | --- |
| ISBN: | |
| Dewey Class No: | 741.5/973 23 |
| Author: | |
| Title: | Dog Man / written and illustrated by Dav Pilkey, as George Beard and Harold Hutchins with color by Jose Garibaldi. |
| VaryingTitle: | |
| Physical: | 231 pages : chiefly color illustrations ; 22 cm. |
| ContentType: | |
| ContentType: | |
| MediaType: | |
| CarrierType: | |
| Series: | |
| Citation/Refs: | Booklist, 8/1/2016 |
| Citation/Refs: | Publishers Weekly, 5/16/2016 |
| Citation/Refs: | School Library Journal, 7/2016 |
| Summary: | In this humorous graphic novel, Officer Knight and Greg the dog are in an explosion and can only be saved by attaching Greg's dog head onto Knight's human body, thus making Dog Man, a superhero who fights crime and the plots of Petey the cat. Includes drawing activities. |
| Target Audience: | |
| Target Audience: | |
| Target Audience: | |
| Study Program: | |
| Study Program: | |
| Subject: | |
| Subject: | |
| Subject: | |
| Subject: | |
| Subject: | |
| Link: | |
| Link: | |
| Field | Ind | Subfield | Data |
| --- | --- | --- | --- |
| 001 Control No | | | 24068 |
| 005 LastTransaction | | | 20180602062822.0 |
| 008 Data Elements | | | 160829s2016 nyua j 6 000 0 eng d |
| 020 ISBN | | $a ISBN | 978-0-545-58160-8 |
| 035 System Ctrl No | | $a System control number | (MnBnMLM)MLM04101888 |
| 040 Cataloging Src | | $a Original cataloging agency | MnBnMLM |
| | | $b Language of cataloging | eng |
| | | $c Transcribing agency | MnBnMLM |
| | | $e Description conventions | rda |
| | | $d Modifying agency | MnBnMLM |
| 082 Dewey Class No | 04 | $a Classification number | 741.5/973 |
| | | $2 Edition number | 23 |
| 100 ME:PersonalName | 1 | $a Personal name | Pilkey, Dav, |
| | | $d Dates associated with a name | 1966-, |
| | | $e Relator term | author, |
| | | $e Relator term | artist. |
| 245 Title | 10 | $a Title | Dog Man / |
| | | $c Statement of responsibility | written and illustrated by Dav Pilkey, as George Beard and Harold Hutchins with color by Jose Garibaldi. |
| 246 VaryingTitle | 1 | $i Display text | At head of title: |
| | | $a Title proper/short title | Tree House Comix proudly presents |
| 264 ProductnNotice | 1 | $a Place of prod/dist/manuf. | New York, NY : |
| | | $b Name of prod./pub./dist./man. | Graphix, |
| | | $c Date of prod/dist/manuf/copyrt | [2016] |
| 300 Physical Desc | | $a Extent | 231 pages : |
| | | $b Other physical details | chiefly color illustrations ; |
| | | $c Dimensions | 22 cm. |
| 336 ContentType | | $a Content type term | text |
| | | $2 Source | rdacontent |
| 336 ContentType | | $a Content type term | still image |
| | | $b Content type code | sti |
| | | $2 Source | rdacontent |
| 337 MediaType | | $a Media type term | unmediated |
| | | $2 Source | rdamedia |
| 338 CarrierType | | $a Carrier type term | volume |
| | | $2 Source | rdacarrier |
| 440 Series Title | 0 | $a Title | Dog Man |
| 510 Citation/Refs | 3 | $a Name of source | Booklist, |
| | | $b Coverage of source | 8/1/2016 |
| 510 Citation/Refs | 3 | $a Name of source | Publishers Weekly, |
| | | $b Coverage of source | 5/16/2016 |
| 510 Citation/Refs | 3 | $a Name of source | School Library Journal, |
| | | $b Coverage of source | 7/2016 |
| 520 Summary | | $a Summary, etc. note | In this humorous graphic novel, Officer Knight and Greg the dog are in an explosion and can only be saved by attaching Greg's dog head onto Knight's human body, thus making Dog Man, a superhero who fights crime and the plots of Petey the cat. Includes drawing activities. |
| 521 Target Audience | 0 | $a Target audience note | 2.6. |
| 521 Target Audience | 2 | $a Target audience note | 2-5. |
| 521 Target Audience | 8 | $a Target audience note | GN 390 |
| | | $b Source | Lexile. |
| 526 Study Program | 0 | $a Program name | Accelerated Reader AR-ATOS |
| | | $b Interest level | LG |
| | | $c Reading level | 2.6 |
| | | $d Title point value | 1.0 |
| | | $z Public note | 184237. |
| 526 Study Program | 0 | $a Program name | Reading Counts RC |
| | | $c Reading level | 3.3 |
| | | $d Title point value | 4.0 |
| | | $z Public note | 69406. |
| 650 Subj:Topic | 1 | $a Topical term | Police |
| | | $v Form subdivision | Fiction. |
| 650 Subj:Topic | 1 | $a Topical term | Dogs |
| | | $v Form subdivision | Fiction. |
| 650 Subj:Topic | 1 | $a Topical term | Humorous stories. |
| 650 Subj:Topic | 1 | $a Topical term | Cartoons and comics |
| | | $v Form subdivision | Fiction. |
| 650 Subj:Topic | 1 | $a Topical term | Graphic novels. |
| 852 Holdings | 1 | $h Classification part | E Pil |
| | | $p Barcode | 10029 |
| | | $9 Cost | $9.99 |
| | | $a Location | VAES |
| 852 Holdings | | $a Location | VAES |
| | | $h Classification part | E Pil |
| | | $p Barcode | 7655 |
| | | $9 Cost | $9.99 |
| 852 Holdings | | $a Location | VAES |
| | | $h Classification part | E Pil |
| | | $p Barcode | 5815 |
| | | $9 Cost | $9.99 |
| 856 ElectronicLocat | 42 | $3 Materials specified | View cover image provided by Mackin |
| | | $u Uniform Resource Identifier | http://www.mackin.com/BookPics/Book.aspx?isbn=9780545581608 |
| 856 ElectronicLocat | 4 | $3 Materials specified | Cover image |
| | | $u Uniform Resource Identifier | https://covers.openlibrary.org/b/id/7894142-M.jpg |