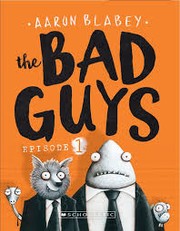 E Bla
The Bad Guys
New York : Scholastic Press, 2017.
138 pages : illustrations ; 19 cm.
The Bad Guys, Mr. Wolf, Mr. Shark, Mr. Snake, and Mr. Piranha, want to be heroes, and they decide that the way to do it is free the 200 dogs in the city dog pound--but their plan soon goes awry.
Accelerated Reader: Level 2.4 LG / 0.5 Points / 180215.
Lexile: 250L
Available
Easy Fiction
2 copies available at Van Alstyne Elementary School
| | |
| --- | --- |
| ISBN: | |
| ISBN: | |
| ISBN: | |
| ISBN: | |
| LC Call No: | PZ7.B52864 Bad 2017 |
| Dewey Class No: | [Fic] 23 |
| Author: | |
| Title: | |
| Physical: | 138 pages : illustrations ; 19 cm. |
| ContentType: | |
| MediaType: | |
| CarrierType: | |
| Notes: | "First published by Scholastic Australia Pty Limited in 2015.". |
| Summary: | The Bad Guys, Mr. Wolf, Mr. Shark, Mr. Snake, and Mr. Piranha, want to be heroes, and they decide that the way to do it is free the 200 dogs in the city dog pound--but their plan soon goes awry. |
| Target Audience: | |
| Study Program: | |
| Subject: | |
| Subject: | |
| Subject: | |
| Link: | |
| Field | Ind | Subfield | Data |
| --- | --- | --- | --- |
| 001 Control No | | | 24278 |
| 005 LastTransaction | | | 20180611115138.0 |
| 008 Data Elements | | | 151022t20172015nyua b 000 1 eng |
| 010 LCCN | | $a Record content licensor | 2015037847 |
| 020 ISBN | | $a ISBN | 978-0-545-91240-2 |
| 020 ISBN | | $a ISBN | 978-0-545-91240-2 |
| 020 ISBN | | $a ISBN | 978-0-545-93516-6 |
| 020 ISBN | | $a ISBN | 978-0-545-93516-6 |
| 035 System Ctrl No | | $a System control number | (SKY)sky284114096 |
| 040 Cataloging Src | | $a Original cataloging agency | NJQ/DLC |
| | | $b Language of cataloging | eng |
| | | $e Description conventions | rda |
| | | $c Transcribing agency | ZQP |
| | | $d Modifying agency | DLC |
| | | $d Modifying agency | OCLCF |
| | | $d Modifying agency | DUQ |
| | | $d Modifying agency | OCLCO |
| | | $d Modifying agency | YDXCP |
| | | $d Modifying agency | BTCTA |
| | | $d Modifying agency | BDX |
| | | $d Modifying agency | SKYRV |
| 042 Authentication | | $a Authentication code | lcac |
| | | $a Authentication code | pcc |
| 049 | | $a | JRSA |
| 050 LC Call No | 00 | $a Classification number | PZ7.B52864 |
| | | $b Item number | Bad 2017 |
| 082 Dewey Class No | 04 | $a Classification number | [Fic] |
| | | $2 Edition number | 23 |
| 100 ME:PersonalName | 1 | $a Personal name | Blabey, Aaron, |
| | | $e Relator term | author. |
| 245 Title | 14 | $a Title | The Bad Guys / |
| | | $c Statement of responsibility | Aaron Blabey. |
| 264 ProductnNotice | 1 | $a Place of prod/dist/manuf. | New York : |
| | | $b Name of prod./pub./dist./man. | Scholastic Press, |
| | | $c Date of prod/dist/manuf/copyrt | 2017. |
| 264 ProductnNotice | 4 | $c Date of prod/dist/manuf/copyrt | ©2015. |
| 300 Physical Desc | | $a Extent | 138 pages : |
| | | $b Other physical details | illustrations ; |
| | | $c Dimensions | 19 cm. |
| 336 ContentType | | $a Content type term | text |
| | | $2 Source | rdacontent. |
| 337 MediaType | | $a Media type term | unmediated |
| | | $2 Source | rdamedia. |
| 338 CarrierType | | $a Carrier type term | volume |
| | | $2 Source | rdacarrier. |
| 500 General Note | | $a General note | "First published by Scholastic Australia Pty Limited in 2015.". |
| 520 Summary | | $a Summary, etc. note | The Bad Guys, Mr. Wolf, Mr. Shark, Mr. Snake, and Mr. Piranha, want to be heroes, and they decide that the way to do it is free the 200 dogs in the city dog pound--but their plan soon goes awry. |
| 521 Target Audience | 8 | $a Target audience note | 250 |
| | | $b Source | Lexile. |
| 526 Study Program | 0 | $a Program name | Accelerated Reader AR |
| | | $b Interest level | LG |
| | | $c Reading level | 2.4 |
| | | $d Title point value | 0.5 |
| | | $z Public note | 180215. |
| 650 Subj:Topic | 0 | $a Topical term | Animals |
| | | $v Form subdivision | Juvenile fiction. |
| 650 Subj:Topic | 0 | $a Topical term | Rescues |
| | | $v Form subdivision | Juvenile fiction. |
| 650 Subj:Topic | 0 | $a Topical term | Heroes |
| | | $v Form subdivision | Juvenile fiction. |
| 655 IT:Genre | 7 | $a Genre/form data or focus term | Humorous fiction. |
| | | $2 Source of term | lcgft. |
| 852 Holdings | | $a Location | VAES |
| | | $h Classification part | E Bla |
| | | $p Barcode | 2556 |
| | | $9 Cost | $16.99 |
| 852 Holdings | | $a Location | VAES |
| | | $h Classification part | E Bla |
| | | $p Barcode | 5553 |
| | | $9 Cost | $5.99 |
| 856 ElectronicLocat | 4 | $3 Materials specified | Cover image |
| | | $u Uniform Resource Identifier | https://covers.openlibrary.org/b/id/7892871-M.jpg |