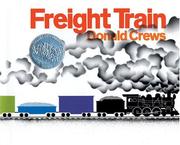 Pro E Cre
Freight train
New York : Mulberry Books, 1992.
[24] p. : col. ill. ; 21 x 25 cm.
A description in text and pictures of the various cars included in a freight train, from engine to caboose. Cars are convenient; planes are fast; buses are cheap; but not one of these conveyances holds a candle to a train--and Donald Crews proves it in this "color concept book of outstanding quality." The train moves slowly at first, then it picks up speed, zooming across the page in a majestic blur of color, speed, and sound. Full color.
Due 05/18/18
Professional
All copies at Van Alstyne Elementary School are out and the next copy is due back 05/18/18
| | |
| --- | --- |
| ISBN: | |
| ISBN: | |
| ISBN: | |
| ISBN: | |
| ISBN: | |
| Author: | |
| Title: | |
| Edition: | 1st Mulberry ed. |
| Publisher: | New York : Mulberry Books, 1992. |
| Physical: | [24] p. : col. ill. ; 21 x 25 cm. |
| Notes: | Art techniques used: Graphic airbrushed illustration in brightly colored dyes. |
| Summary: | A description in text and pictures of the various cars included in a freight train, from engine to caboose. Cars are convenient; planes are fast; buses are cheap; but not one of these conveyances holds a candle to a train--and Donald Crews proves it in this "color concept book of outstanding quality." The train moves slowly at first, then it picks up speed, zooming across the page in a majestic blur of color, speed, and sound. Full color. |
| Subject: | |
| Subject: | |
| Subject: | |
| Link: | |
| Field | Ind | Subfield | Data |
| --- | --- | --- | --- |
| 001 Control No | | | 25347 |
| 005 LastTransaction | | | 20180215104734.0 |
| 008 Data Elements | | | 940829s1992 nyua j 000 1 eng d |
| 019 | | $a | 26938171 |
| 020 ISBN | | $z Canceled/invalid ISBN | 0688117015 (pbk.) |
| | | $a ISBN | 978-0-688-11701-6 |
| 020 ISBN | | $a ISBN | 978-0-688-11701-6 |
| 020 ISBN | | $a ISBN | 978-0-688-11701-6 |
| 020 ISBN | | $a ISBN | 978-0-688-11500-5 (pbk.) |
| 020 ISBN | | $a ISBN | 978-0-688-11500-5 (pbk.) |
| 035 System Ctrl No | | $a System control number | (OCoLC)31025857 |
| 040 Cataloging Src | | $a Original cataloging agency | BRL |
| | | $b Language of cataloging | eng |
| | | $c Transcribing agency | BRL |
| | | $d Modifying agency | OCLCQ |
| | | $d Modifying agency | XY4 |
| | | $d Modifying agency | BTCTA |
| | | $d Modifying agency | BAKER |
| | | $d Modifying agency | YDXCP |
| | | $d Modifying agency | QJB |
| | | $d Modifying agency | OCO |
| | | $d Modifying agency | JTC |
| | | $d Modifying agency | CAUOI |
| | | $d Modifying agency | XY4 |
| | | $d Modifying agency | OCLCQ |
| | | $d Modifying agency | B9B |
| 100 ME:PersonalName | 1 | $a Personal name | Crews, Donald. |
| 245 Title | 10 | $a Title | Freight train / |
| | | $c Statement of responsibility | Donald Crews. |
| 250 Edition | | $a Edition statement | 1st Mulberry ed. |
| 260 PublicationInfo | | $a Place of publication, dist. | New York : |
| | | $b Name of publisher, dist, etc | Mulberry Books, |
| | | $c Date of publication, dist, etc | 1992. |
| 300 Physical Desc | | $a Extent | [24] p. : |
| | | $b Other physical details | col. ill. ; |
| | | $c Dimensions | 21 x 25 cm. |
| 500 General Note | | $a General note | Art techniques used: Graphic airbrushed illustration in brightly colored dyes. |
| 520 Summary | | $a Summary, etc. note | A description in text and pictures of the various cars included in a freight train, from engine to caboose. Cars are convenient; planes are fast; buses are cheap; but not one of these conveyances holds a candle to a train--and Donald Crews proves it in this "color concept book of outstanding quality." The train moves slowly at first, then it picks up speed, zooming across the page in a majestic blur of color, speed, and sound. Full color. |
| 650 Subj:Topic | 0 | $a Topical term | Railroad trains |
| | | $v Form subdivision | Pictorial works. |
| 650 Subj:Topic | 0 | $a Topical term | Color. |
| 650 Subj:Topic | 0 | $a Topical term | Picture books. |
| 852 Holdings | | $a Location | VAES |
| | | $h Classification part | Pro E Cre |
| | | $p Barcode | 7866 |
| | | $9 Cost | $0.00 |
| 852 Holdings | | $a Location | VAES |
| | | $h Classification part | Pro E Cre |
| | | $p Barcode | 7529 |
| | | $9 Cost | $0.00 |
| 852 Holdings | | $a Location | VAES |
| | | $h Classification part | Pro E Cre |
| | | $p Barcode | 6647 |
| | | $9 Cost | $0.00 |
| 852 Holdings | | $a Location | VAES |
| | | $h Classification part | Pro E Cre |
| | | $p Barcode | 4613 |
| | | $9 Cost | $0.00 |
| 852 Holdings | | $a Location | VAES |
| | | $h Classification part | Pro E Cre |
| | | $p Barcode | 4571 |
| | | $9 Cost | $0.00 |
| 852 Holdings | | $a Location | VAES |
| | | $h Classification part | Pro E Cre |
| | | $p Barcode | 7624 |
| | | $9 Cost | $0.00 |
| 852 Holdings | | $a Location | VAES |
| | | $h Classification part | Pro E Cre |
| | | $p Barcode | 4719 |
| | | $9 Cost | $0.00 |
| 856 ElectronicLocat | 4 | $3 Materials specified | Cover image |
| | | $u Uniform Resource Identifier | https://covers.openlibrary.org/b/id/430821-M.jpg |